Choosing a Broker on NYS of Health
3 easy steps:  NY State of Health Individual Health Insurance – Individual Health Insurance Enrollment Instructions
Your gateway page to the NY State of Health site is: https://nystateofhealth.ny.gov/individual
First, Register for a NY GOV ID by clicking as noted below
2. Once you have created your Login credentials, you then have to Login to the site using your new credentials
Once in for the first time, your first screen looks like this:
3. On the next page, under Account and Identity Information, at the bottom of the screen it asks for Broker/Navigator information. Choose 'YES' (no cost or higher rates to use a broker, so take advantage of our knowledge for free!) and click on Find a Broker/Navigator/Application Counselor
Broker/Navigator Information
Do you need a Broker/Navigator/Application Counselor ?
Yes No
Selected Broker/Navigator/Application Counselor:
Find a Broker/Navigator/Application Counselor
When prompted on the search page, type in Alex Miller where shown in the screenshot below.
In addition, you can alternatively put in zip code 10583 and Alex Miller will show.
You then put a 'check' mark next to Alex Miler, then hit 'Authorize this Broker' at the bottom left of the search list: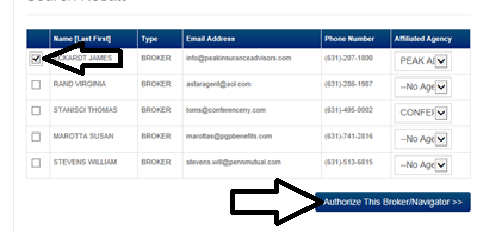 Once you have authorized us as your broker, we get notified on our broker portal. You are not done yet.
NY State of Health Individual Health Insurance
You will need to continue with your application, namely going thru the following questions asked by the NYSOH to identity proof you and make sure you are who you say you are. You can also check to see if you are eligible for any assistance or subsidy during this process. It is only when you get to the last step, 'FIND A PLAN', that we can help you.
        Account Information
        Contact Information
        Build Household
        Household Members
        Relationships
        Residential Address
        Household Summary
        Public MEC
        Income Information
        Tax Filing Status
        Income Details
        Income Summary
        Other Information
        Application Summary
       Find a Plan
At this point, you should contact us to let us know you are ready for us to advise you on your medical choices. You might consider having a list of doctors or hospitals you want to check on to see which carriers include these providers in their networks.
With 20+ years' experience with health insurance  you will have all of that knowledge working for you!  Wishing you success on securing a good health plan and  look forward to helping you in the process.
Stay proactive and contact us today for a custmozied consult on how your organization can prepare  ahead  for ACA, Benefits, Payroll and HR  @ (855) 667-4621 or info@medicalsolutionscorp.com.